Christopher Simmons
CEO of Neotrope® — Member: PRSA, and ASCAP.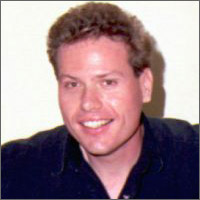 Christopher Laird Simmons is a veteran author and journalist, musician, photographer, marketing guru and public relations (PR) expert, multimedia artist, and entrepreneur with over 25 years experience in multiple creative disciplines. He has written for over a dozen national magazines, including Micro Publishing News, Digital Imaging, Computer Player, the Graphic Artist Guild newspaper, and CrossMedia magazines. His first sale to a national magazine was for Polyphony (now Electronic Musician) in 1984, but his first published works were in various sci-fi fanzines in 1978 (at age 16). He is the author of FRACTOPIA (Neotrope Press, ISBN: 978-0-9710555-0-6).
Chris has been widely interviewed by magazines like Entrepreneur, PC World, Chicago Sun Times, Medical Office Front Desk Pro, and Produce Merchandising on topics related to ebooks, Linux Web hosting, music social networking, customer retention, Internet marketing, SEO/SEM, and public relations. (Photo circa 1995.)
Christopher composed his first press release in 1981 for a self-published work, which led to a quarter-page in Playboy magazine's June 1982 "Potpourri" section; this later led to PR work for California entertainment and start-up companies, as an extension of his graphic design, copy-writing, and photography freelance work, and the launch of Neotrope in 1983 (the company launched as Mindset, and later became Neotrope). He is a current member of the Public Relations Society of America.
Chris has appeared on radio programs like JackStreet Live and Publishing Basics Radio, both on the topics of public relations and news dissemination; and is a quoted expert in major industry reports like the TrendWatch report on PDF technologies; and is one of the succcessful entrepreneurs quoted in the book Career and Corporate Cool (Wiley, ISBN: 978-0470120347) by Rachel C. Weingarten. He has won numerous industry awards including an ARPL Design Award from Apple Computer, Inc., two Harvey Measurement Awards, and various design and photography awards. He has served as a public relations representative for numerous public and private companies with extensive experience in placing news stories in the media since 1981. He served for three years on the judging panel for the "Excellence in Technology Journalism" awards, created by the Public Relations Society of America (PRSA). He has been on the launch team for numerous successful companies, including MacMall®, and FindWhat.com (now part of Miva).
As a musician he played in various original bands in the '80s, released numerous albums, and composed theme music for two cable TV series; and is a member of ASCAP (The American Society of Composers, Authors and Publishers). One of his albums ("Beserker") can be found on iTunes, CDBaby, Napster, etc. As a digital artist he has created covers for more than two dozen national magazine covers, and his art has appeared in major installations (1997 Bytes of Art Project, San Francisco), and was used for the cover of the 1997 Science and Technology Course Catalog for the California State University Long Beach (CSULB).
In addition to managing the day-to-day operations of Neotrope/Send2Press, and developing new business, Chris is directly involved in the management of all client projects.