REDONDO BEACH, Calif., July 2, 2009 — Christopher Simmons' "Fractopia" (ISBN: 978-0-9710555-0-6, hardcover – limited edition, Neotrope Press), collects the best of Simmons' abstract images created by combining fractal imagery with photographic effects, textures and hand-applied layers. This special edition includes a video DVD with slide show of all images found in the book. Some of the art has been called sexual in nature, including the piece called "godheart."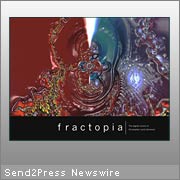 "When these images appeared in art installations more than a decade ago, many thought I was intentionally trying to create impressions of the female womb with at least two of the illustrations," said Simmons. "This was not the goal; but the first such piece called 'godheart' does appear similar to a womb, but also an all-seeing eye, with both electric and metallic textures. This impression led me to the name of the piece. A later piece, 'spiralasm,' does convey an intentional sense of the organic and the orgasmic."
Simmons' "Fractopia" series images have been featured in such venues as the "Bytes of Art" gallery shows that were hosted throughout San Francisco in 1997; the Cosmic Cafe online art gallery in 1996-7; and the first image in the series, 'balls in sandtrap,' was used as the full color cover for the 1997 California State University Long Beach (CSULB) Science and Technology course catalog.
"My favorite images are actually first, 'fireonice,' which to me seemed to imply a ghostly figure caught between the realm of fire and energy, and the extreme cold that can freeze thought and movement. This image is used for the book cover. I also used this image for the cover of my 2000 music CD release 'Beserker.' And my second favorite is called 'prayer bubble,' which appears to be two hands moving through water, filled with fractal bubbles, holding a sphere. This was loosely inspired by my wedding photos showing hands touching, which is why it was dedicated to my then spouse, Paula."
Christopher Laird Simmons is an award-winning graphic designer, photographer, musician, and digital imaging professional. He has created original images for national magazine covers, product packaging, and managed diverse brand identity projects for more than 25 years. His first computer-based artwork was done for the Adventure International game "Stone of Sisyphus" in 1983, programmed by his younger brother, David.
Simmons is also a respected marketing guru and technologist, who has been interviewed by publications as diverse as Entrepreneur, PC World, Chicago Post-Tribune, and TrendWatch; and is one of the experts quoted in the book "Career and Corporate Cool" by Rachel C. Weingarten. He is the CEO of Neotrope(R), and is a member of PRSA, and ASCAP.
"I created these images in a creative rush during the mid nineties," added Simmons, "and Adobe Photoshop was my palette for these visions, along with filters from Kai Krause and John Knoll. I tried to take the chaos theory behind fractal imagery then combine that with deep colors and organic sensibilities to create something unique; finding and massaging shapes and patterns within the fractal elements and color gradients."
FRACTOPIA™, the limited edition, ISBN-13: 978-0-9710555-0-6, is published in hardcover with slip cover; full color throughout, with video DVD. Size is approximately 9×11.5 inches. Price is $39.95 plus shipping.
More information: www.NeotropePress.com or www.FractopiaBook.com .
Neotrope® is a trademark and service mark, registered in the U.S. and other countries. Fractopia™ has been used as the title for this art series since 1994 and has no relationship with any other brand, product, or service with a similar name. All other trademarks and service marks are the property of the respective parties.