Just when you thought you survived SHARKNADO, a new terror has come to drown Los Angeles in fiery toothsome horror. Down from the hills and into the sky, FUR WILL FLY! Beware the fire dripping monsters of WOLFCANO!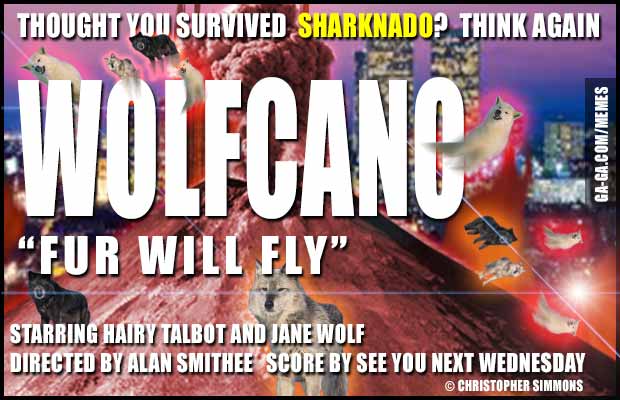 A pack of wolves seeking shelter from the heat follow a lost cave unearthed from a recent earthquake. Little do they know the shelter from the heat takes them deep underground to a dormant volcano, and with a follow up quake the volcano erupts sending the wolves and a firestorm over southern California.
Helicopter pilots and tanker trucks must swerve or explode when the flaming furballs start raining from the sky.
You'll howl, you'll cry, you'll see wolves fly.
Directed by veteran Hollywood director Alan Smithee this fur-fest will thrill and delight the most jaded moviegoers. A rousing sacore by the infamous band See You Next Wednesday, will have you on the edge of your seat, and features the love ballad, "If only wolf boy would save me."
CAN YOU SURVIVE THE WOLFCANO?

(*THIS IS NOT A REAL MOVIE: in case you hadn't figured that out by now.) 😉

Image and text Copr. © 2013 by Christopher Simmons, from an original idea. First published on Ga-Ga .com – all commercial and reprint rights reserved beyond the normal use of memes. Publication on any website, particularly "meme curation" sites must include link back to this page/site on ChristopherSimmons.com for proper attribution.